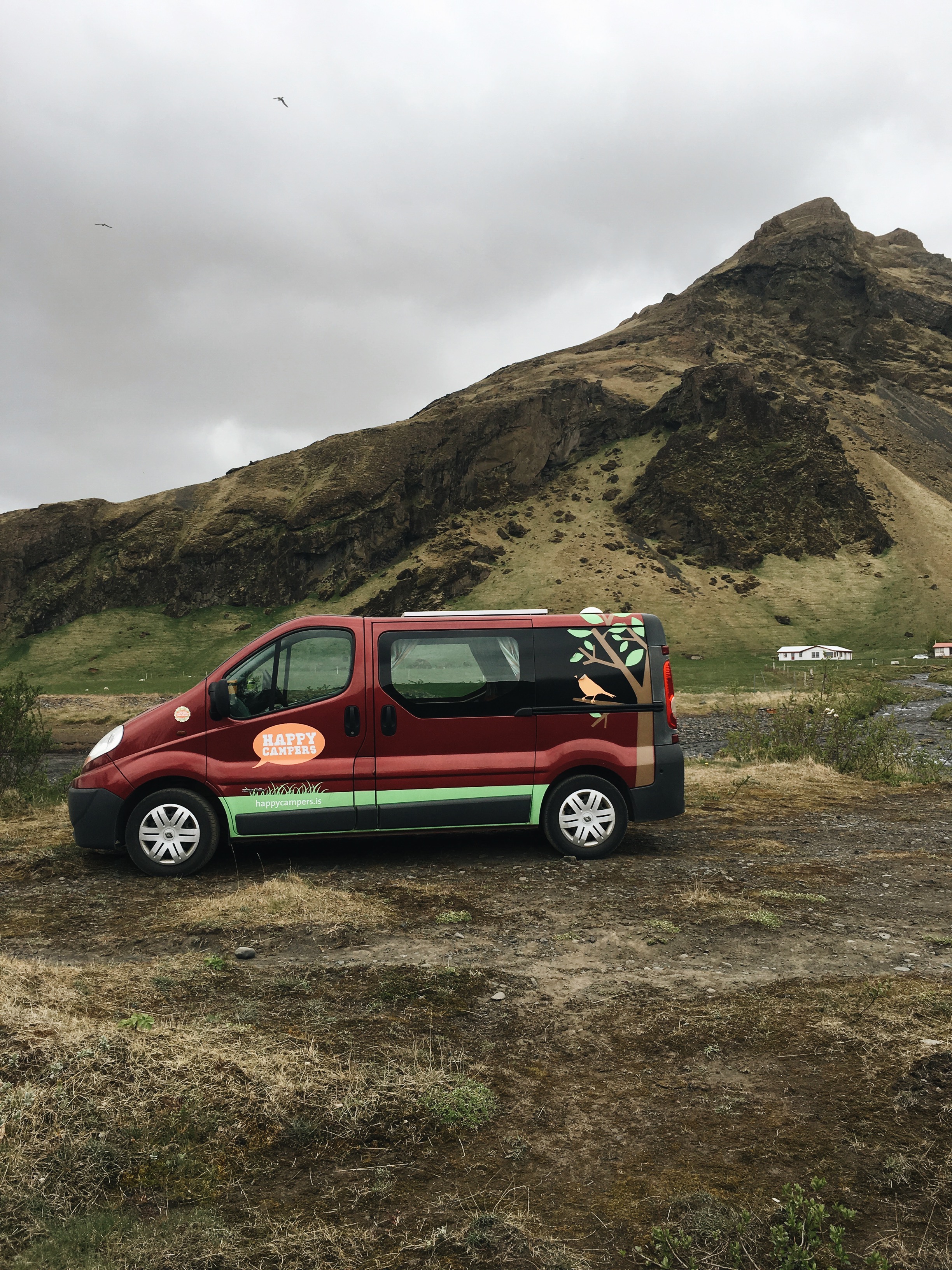 Exploring Iceland in a Camper Van
Renting a camper van is, in my opinion, THE greatest way to experience Iceland! Iceland has free camping laws, meaning you can legally park your camper van anywhere that's not private property overnight.
Locations that we have camped in our van in Iceland include:
- A scenic viewpoint along the highway
- Next to a glacial lagoon
- In front of a giant waterfall and beside a stream
- A national park campground and a few other actual campgrounds (they are usually free if you go in the off-season!)
Before I go any further, I must introduce our favorite Icelandic camper van company - Happy Campers! We have rented from them twice now and have had the most fantastic experience both times. There are a few different van configuration options accommodating from 2-5 people and all come with everything you need for your travels (bedding, gas stove with gas canisters, a sink and water tank, a cooler/fridge, pots, pans, dishes, etc.). There is no limit on the amount of miles you can drive which is nice compared to some other companies that restrict you to a certain amount per day. There are also some add-on options such as sleeping bags for the colder months, GPS, wifi, table & chairs, and more. Besides all of the fantastic functional details, the folks who work there are exceedingly nice, friendly, and helpful. They offer pick-ups from the airport, maps on which they will mark the roads that are drivable (many roads in Iceland can only be accessed in a 4x4), gas cards that provide you with discounted gas prices, and shelves of free supplies left by previous renters - a perfect way to grab some coffee and paper towels without having to buy a large amount at the store. Once all is in place and you've grabbed everything you need - don't forget a towel and French press mugs - you're off!
The very best aspect of this form of travel is that you don't have to follow a strict plan which is perfect in Iceland because there is SO much to see. It's easy to get sidetracked by yet another beautiful waterfall or maybe you want to spend a little more time than you'd thought at this hot spring or make the hike to the airplane wreck on the beach. Well no worries, because you've got your traveling home along with you. See and do everything you want and eat and sleep whenever is convenient!
Check out my Introduction to Iceland post to read more about where we went in our camper van and some sights we recommend seeing.
Now I will share some images from our two Happy Campers trips so far - already can't wait for the next, whenever that may be!
Have you ventured around Iceland yet? Did you rent a campervan and what'd you think? Let me know if you have any questions at all, I'm always happy to answer!